Today hubby and I went for a bike ride and left at 12:00 pm. We called Pick and Pull to see if our check was ready for the Infinity we turned in Friday. It was so we rode our bike over and then rode to the bank. We were 5 minutes to late so had to put it in the ATM machine. Then DS's IPHONE cover didn't work, it blocked the reception of all calls. We had 30 days to return it. That was $35 dollars back into our bank. Then we headed towards the miners ravine bike trail
towards hubbies 76 station for his big gulp. Then headed for our short cut across the railroad tracks to the next bike trail towards home. We arrived at 3:00 pm.
I tried a new recipe today and it really turned out so good. All of us raved on how good it was. It's a new family favorite.
Go to:
http://www.genaw.com/lowcarb/shepherds_pie.html
for more low carb recipes.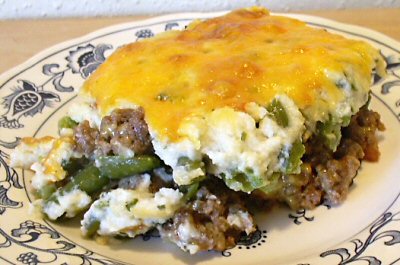 JOSIE'S SHEPHERD'S PIE
4-6 pieces bacon, chopped
2 pounds ground beef
Small onion, chopped, 2.5 ounces
Salt and pepper
1/4 teaspoon toasted onion powder
1/4 teaspoon garlic powder
1 egg, beaten
8 ounces cheddar cheese, shredded and divided
16 ounce package frozen green beans
16 ounce package frozen cauliflower
(I replaced mashed potatoes)
3 tablespoons butter, divided
1/4 cup sour cream
1 tablespoon chives, minced
In a large skillet, fry the bacon until crisp; drain well and set aside. In the same skillet, brown the hamburger and onion, seasoning with salt and pepper; drain the fat. In a 7 1/2 x 11 3/4" baking dish, mix the hamburger, bacon, onion and garlic powders. Check the seasoning for salt and adjust if needed, then stir in the beaten egg and half of the cheese. Spread over the bottom of a baking dish.
Meanwhile, in a medium pot, cook the green beans according to the package directions; drain well then return to the pot and stir in 1 tablespoon butter. Season to taste with salt. Spread the beans over the meat layer. In the same pot, cook the cauliflower 10-12 minutes until very tender; drain well. Put the cauliflower, 2 tablespoons butter and the sour cream in a food processor. Puree until smooth. Add the chives and pulse to blend. Adjust the seasoning, if necessary, then spread evenly over the green beans. Sprinkle the remaining cheese over the top. Bake at 350º for 35 minutes, until hot and bubbly.
Makes 8 very generous servings
Can be frozen
Per Serving: 433 Calories; 31g Fat; 30g Protein; 8g Carbohydrate; 3g Dietary Fiber; 5g Net Carbs

I tweaked this recipe from JosieL a bit to use two pounds of hamburger instead of 1 1/2 pounds, added extra cheese and used the whole bag of frozen green beans. Be sure to season each layer of the casserole well because it will be hard to add seasoning later. The original recipe was made in a 9x9" pan, but I didn't have one that size and 8x8" would be too small. I would not try using a 9x13"pan because the mashed "potatoes" and cheese would be spread too thinly. This is very homey, comfort food.
My fitness buddy
February 4, 2012
Foods
Calories
Carbs
Fat
Protein
Cholest
Sodium
Sugars
Fiber
Breakfast
Oroweat - Country Potato Bread, 1 slice
100
20g
1g
3g
0mg
135mg
2g
1g
Butter - Salted, 0.5 tbsp
51
0g
6g
0g
15mg
41mg
0g
0g
Winco 10 Grain Pancake Mix - Pancake Mix, 10 g
26
5g
0g
1g
1mg
90mg
0g
1g
Butter - Salted, 0.5 tbsp
51
0g
6g
0g
15mg
41mg
0g
0g
Safeway - Sugar Free Breakfast Syrup, 0.0625 cup
10
3g
0g
0g
0mg
29mg
0g
0g
Lunch
Oroweat - Country Potato Bread, 2 slice
200
40g
2g
6g
0mg
270mg
4g
2g
Generic - Homemade Egg Salad, 2 eggs in mix
163
29g
9g
8g
0mg
0mg
0g
0g
Dinner
Generic - Ground Beef Shepard's Pie, 10 oz.
407
26g
21g
28g
135mg
230mg
5g
4g
Snack
Barefoot Wine - Sauvignon Blanc, 12 oz
240
0g
0g
0g
0mg
0mg
0g
0g
TOTAL:
1,248
123g
45g
46g
166mg
836mg
11g
8g
Food Notes
Hubby and I rode our bikes for 3 hours. had a great time
Exercises
Calories
Minutes
Sets
Reps
Weight
Cardiovascular
Bicycling, 10-12 mph, light (cycling, biking, bike riding)
1,653
180
TOTALS:
1,653
180
0
0